Visual collaboration breaks down boundaries – in and outside the classroom.
Distance learning networks are used every day to connect students around the world bringing reading, science, geography and history to life. Communicating face to face with remote experts makes learning fresh, fun and exciting.
Combine our education specific solutions with our end-user training and take students to a world far beyond a textbook.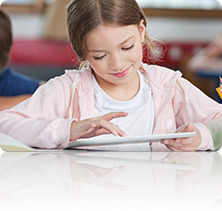 Conduct virtual field trips
Streamline operations and reduce costs
Train and educate efficiently and effectively
Leverage existing and emerging technology
Develop a long term technology strategy
Access education specialists within your district,
region, and state
Access presenters, museums, and content from all
over the world
Utilize Our Grant Assistance Team to locate funding for your visual collaboration goals.